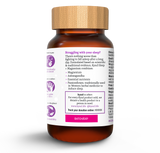 Why Choose Kynd?
SCIENTIFICALLY VALIDATED
Kynd Sleep + Magnesium is formulated with ingredients based on scientific and traditional evidence.
WE GIVE 1 FOR 1
For every one Kynd product sold, we
donate a Kynd Immunity product to a person in need.
SUSTAINABILITY
Kynd is packaged with a sustainable
bamboo cap in a glass bottle.
3 Benefits for You:
Contains 1000mg Passionflower.
Contains *Passionflower, traditionally used in Western herbal medicine to induce sleep.
Contains Magnesium + Ashwagandha +
Essential Nutrients including Vitamin C and Iron.