1
YOU BUY
You choose to be kind to yourself by purchasing a scientifically validated Kynd product.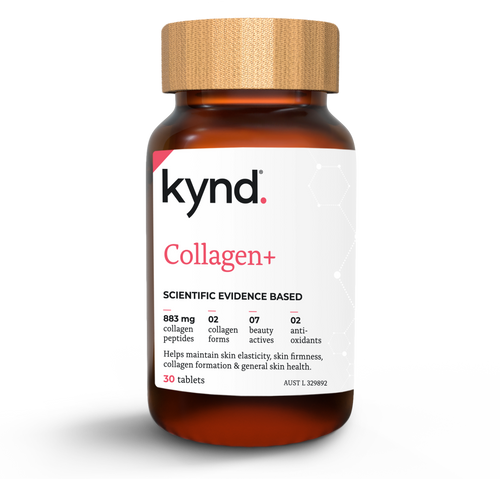 2
WE DONATE
We donate a Kynd Immunity product (a blend of Vitamin C and Zinc) to a person in need.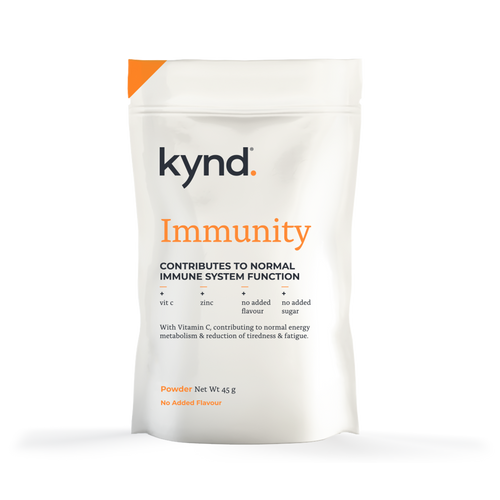 3
UNIQUE CODE
Enter your unique code into our tracker. You'll receive an update on the latest Kynd donations!
4
NATIONAL IMPACT
The lives of people in need will be helped, thanks to your Kynd purchase and act of kindness.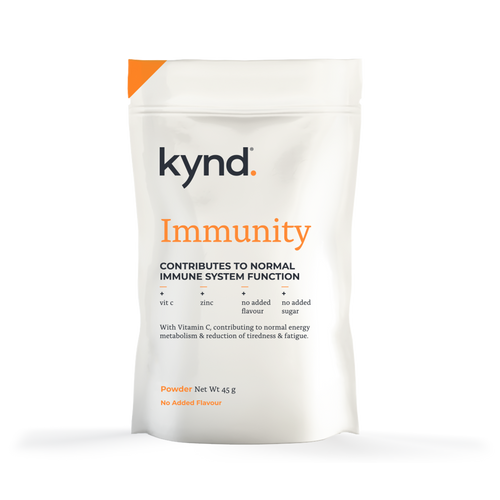 a little kynd goes a long way...

You help spread kindness to a person in need when you #ChooseKynd!
Kynd Immunity blends Vitamin C and Zinc in a specifically formulated powder to help support your body in its time of need. Zinc and Vitamin C contribute to normal immune system function, normal energy metabolism and reduction of tiredness and fatigue.
Who do we donate to?
It has been a dream come true to donate the Kynd Immunity product to people in need and we are excited to continue to grow! To see where your purchase has made a difference, simply enter your unique code in our tracker above.
Thank you for your support and spreading kyndness with us.
We have started and will continue donating the Kynd Immunity product to people that we feel will really benefit from it - they are our "person in need". Currently, we have been donating to people experiencing homelessness and those seeking refuge through a variety of charity partners.
In addition to our 1 for 1 donations, we want to further support Australians and donate to people that may need some immune support – especially those who are looking after those in need, some of those who support our community and the elderly – like school teachers, nurses and pensioners.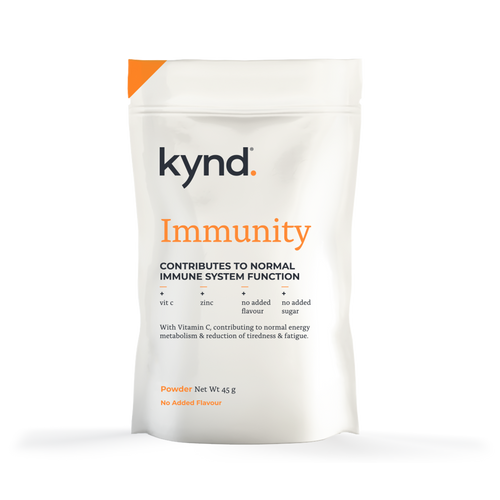 Kynd Immunity
Product Details:
Directions: Mix 1 teaspoon (4.5g) into food or liquid food.
Ingredients: Maltodextrin, Inulin, Ascorbic Acid, Zinc Gluconate (trihydrate), Silicon Dioxide, Stevia Leaf Powder. Free from: Gluten, Lactose, Dairy, Eggs & Nuts.
Nutritional Information: Serving Size: 4.5g (1 teaspoon). Servings per pack: 10
Qty per serve
(1 teaspoon)
Qty per
100g
Energy (kJ)
69kJ
1540kJ
Protein
Less than 1 g
Less than 1 g
Fat - Total
Less than 1 g
Less than 1 g
saturated
Less than 1 g
Less than 1 g
Carbohydrate
3.9 g
87.4 g
sugars
Less than 1 g
9.5 g
Dietary Fibre
Less than 1 g
4.45 g
Sodium
Less than 5 mg
5 mg
Provides 100% of the recommended daily intake of Vitamin C, and 41% of the recommended daily intake of Zinc per 4.5 g serving.
Store below 30°C, away from direct sunlight. Do not use if tamper seal is broken. Formulated Supplementary Sports Food. Not suitable for persons under 15 years of age and pregnant women. Not a sole source of nutrition – should be consumed in conjunction with a nutritious diet. Should only be used under medical or dietetic supervision. Should be used in conjunction with an appropriate training program.
This is a donation product only and not for individual sale.
Keep showing kyndness